Frequently asked questions (FAQ)
What is the DISC model?
The DISC model is a behavioral grid, also known as a psychological assessment tool, which determines a person's personality type. This form of behavioral analysis was created by Walter Vernon Clarke on the basis of work carried out by psychologist William Marston and described in the book "Emotions of Normal People" published in 1928. DISC is an acronym for the four personality types: Dominant, Influential, Steady and Conscientious; each is defined by a type of energy and associated with a color.
---
What is the DISC used for?
The DISC model helps us get to know ourselves better, identify our comfort and discomfort zones, and become aware of our talents and the flaws we need to work on. Through self-improvement, people can put into place actions and strategies leading to success and develop more flexibility in their relationships. The DISC model is used to improve communication with others, develop leadership skills, strengthen team spirit, optimize sales techniques, recruit the best candidate for a given job and manage or appease conflicts more quickly...
---
Can the DISC model be used to analyze a group of people?
It's ideal for understanding your team when you're a manager! The DISC model makes it easy to identify your team's potential, and thus implement strategies to boost performance. Thanks to the adapted and natural styles, you can create sub-groups among co-workers, allowing each person to develop their strengths and offset their weaknesses.
Workbooks can be used to group together and view the profiles associated with each employee, as illustrated in the dedicated workbook manual.
---
What's the difference between natural and adapted profiles?
These two profiles correspond to how people are and how they appear.
A person's natural profile describes what they are like when they are in an environment where they feel safe; a more intimate environment, where they don't have to wear a social mask. This is the profile that best represents our personality. It is not often subject to change, as it corresponds to aspects of our personality that are generally immutable.
A person's adapted profile describes how they appear when they are performing, more generally in the workplace or in situations of mild stress. This profile evolves much more frequently in our lives, and reflects our behavior in response to our immediate environment.
---
Which profile is the best?
There's no such thing as a good or a bad profile. However, we can talk about appropriate behavior in relation to a given situation and/or person. By answering the questions in the Force4DISC test, you will learn to draw on your strengths to mobilize the right color (or energy) at the right time. This test doesn't measure an individual's values or IQ, so there are no right or wrong answers. But anyone can develop their interpersonal skills if they so wish.
---
Which are the most common profiles?
Without wishing to generalize, but simply to share some feedback from our training sessions, you will often find:
Dominant profiles among business leaders, surgeons and politicians...
Dominant and Influential profiles among sales staff and business reps or promoters...
Influential profiles among entertainers and comedians (even if they also have Conscientious tendencies)...
Influential and Steady profiles among facilitators, educators and coaches...
Steady profiles among health care professionals, PAs and service providers...
Steady and Conscientious profiles among technical managers, coordinators, team leaders, civil servants and mediators...
Conscientious profiles in the legal and administrative professions as well as among engineers, experts in different fields, developers, researchers and law and order professionals...
Conscientious and Dominant profiles among top executives and shareholders...
Please note: Even though certain professions attract a high percentage of people with specific profiles, this doesn't mean that people with alternative profiles can't thrive in them.
For example, in accounting firms, where there are many "conscientious" profiles, "influential" profiles can be just as effective and provide a fresh new way of looking at things..
---
Does the DISC work in the professional world or in private?
You can use the Force4DISC test to discover your natural "private" profile, which corresponds to your behavior off the record (with your spouse, friends and family), and your adapted "public" profile, which corresponds to your behavior in the professional world.
---
Can the Force4DISC test be used for recruiting staff?
Yes, of course! It's a very useful and effective tool for recruiting the ideal job candidate. Quite often, existing employees leave their company not because of a lack of technical skills, but because of relational issues. So it's essential when recruiting to take the time to get to know your candidate and learn how they will tend to behave.
With the DISC model, you can be sure to recruit the candidate who:
will fit in best with the existing team
will have the skills to make the right decisions in the right context
knows how to lead and unite a team
knows how to handle stress and pressure
will have the necessary teaching methods to set up new processes
can help younger staff members climb the career ladder...
These are just a few examples of how the DISC can help highlight job requirements and the criteria the ideal candidate should meet.
---
What different motivations do people have?
There are 6 main drivers that influence our actions:
fulfillment
harmony
efficiency
Altruism
truth
morality
---
Which books can I read to find out more?
Elodie Bancelin's "Pourquoi on ne se comprend pas?" (Why don't we understand each other?) will help you deal with all kinds of everyday situations and find out more about your colleagues, your friends or your children... Purchase on Amazon
"Emotions of normal people" by Wiliam Moulton Marston
"Types of men" by Eduard Spranger
---
How long does the test take?
The test should be performed spontaneously, i.e. fairly quickly. This being the case, it should only take about 15 minutes.
---
How can I get a free test?
You have two options:
either you can take advantage of one of the tests given out for free every day by clicking on the "Take the test" button on the TEST page of our website.
or you may have received a test as a gift from someone else, in which case all you have to do is click on the "Take the test" button in your invitation e-mail.
---
Can I register on your website for free?
Yes, registration on the Force4DISC website is totally free of charge.
---
What should I do if I lose my password?
Simply use the forgotten password feature. A new password will be e-mailed to you. We recommend that you change it the next time you log in. For security reasons, you may not retrieve your old password.
---
What should I do if I don't receive my password reset?
You can reset your password if you've forgotten it. The system will then send you a new password by e-mail. If the message takes a long time to arrive, check your spam folder.
Please note that a new password cannot be sent to you if you haven't set up an account or if you've entered the wrong e-mail address. For security reasons, no alerts will be sent to you.
---
---
Do I need any kind of certification or accreditation to use the site?
We set up Force4disc.com to help people develop their interpersonal potential and learn more about themselves. You're free to use it as you see fit.
Professional coaches may also use it in their work, provided they inform their clientele before implementing the test, and that they comply with all regulations regarding the ownership of personal data.
---
Can you assign tests to your clients/colleagues?
There are two possible scenarios:
If you are a professional coach (or HR manager, trainer, etc.) and would like your clients to take the test, you can assign one to them by registering on our website and ordering the tests you need. You will need to confirm that you are a professional coach (when you register or via your user account) in order to be able to assign tests to other people and manage their results. If you don't respect these criteria, you will not be able to assign tests. Regulations governing the ownership of personal data require us to make the professionals in charge of end-customer personal data accountable. The procedure is illustrated in the test assignment manual.
If you are a private individual and would like to share a DISC test with friends and family, you can purchase a test as a gift, but not assign it. This means providing access to the test questionnaire and the respondent's results in their entirety by means of a purchased credit. You will not have access to the results personally.
---
Can I suggest that my family members (spouse, children, parents, etc.) take the test?
If you are a private individual and would like your family members to take the DISC test, you can give a test as a gift by purchasing credit in the online store. One test purchased is equivalent to one credit. Giving someone a credit means you also give them access to the DISC test and their results in their entirety. You will not have access to the results personally.
---
How do you assign tests?
If you're a professional coach, trainer or HR manager and you'd like to give Force4DISC tests to your employees, trainees or clients, all you have to do is purchase credits and go to your user account, to the "my account" section, and then click on the "assign tests" icon. This option is only available if you have previously indicated that you are a professional coach. If you haven't already done so, you can modify this information on your user account, in the "my account" section.
The procedure is illustrated in the test assignment manual.
---
Can I cancel a test?
You can cancel a test that has not yet been started. Simply go to your account, in the "profiles I manage" section, and cancel the tests you no longer wish to use.
If you've started the test but your computer has crashed, or you've simply had to stop, you can go to your account, in the "profiles I manage" section, and cancel your test. If you cancel the test, the credit you have purchased will automatically be credited back to your account so that it can be used again. Of course, cancelling a free test does not allow you to recover any credits.
---
What's the difference between giving someone credits and assigning them a test?
Giving someone a test consists in transmitting a DISC test credit to someone via an e-mail address. The test will be strictly personal, and only the designated respondent will have access to the results.
Assigning a test consists in sending someone an invitation to take the DISC test, while maintaining access to their results. This is something a professional coach might do in their line of work.
---
How will I receive my test results?
First, you'll receive an e-mail with a summary of your results and a link to the full results page on force4disc.com. Then you can then choose to download the report in PDF format, or read it directly online.
---
What are workbooks (folders) for?
By creating a workbook, you can store and organize test results in your own way. You can use them for groups, companies or specific files.
For example, if you're a trainer giving a DISC training course to sales staff from company X, you could name your workbook "Group A - Company X - September 2021" and subdivide it into "sales staff in the industrial department".
Workbooks can also be used to represent the profiles of all respondents on the same graph.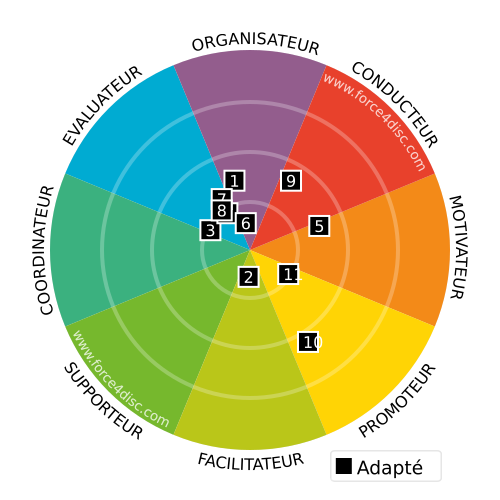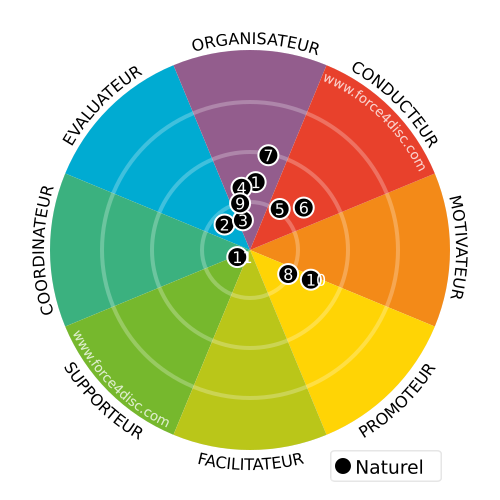 Workbooks are illustrated in more detail in the workbook manual.
---
Who can buy credits (tests)?
Anyone who wishes to, straight from the online store.
---
Do I have to use an intermediary to order?
No! You can order credits yourself in the store.
---
---
Are payments secure?
Payments are handled by PayPal. They are fully secure. All connections are encrypted and no payment information passes through our servers, in compliance with the SIP banking standard. Depending on your bank's specific requirements, a double authentication system (SMS or other) may be in place.
---
Can I bulk order credits (tests)?
You can order tests individually or in packs with sliding-scale prices directly on our website, via the online store. The only limit is your bank's payment cap. Please feel free to contact us for a quote or to pay by bank transfer.
---
Where can I find my invoices?
Your invoices are available directly on your user account (dashboard). They are also sent to you by e-mail, in PDF format, when you place an order.
---
How long are invoices stored?
In accordance with the law, invoices and quotes are carefully stored for 10 years.
---
Can you set up a dedicated website?
We're always open to special requests. We can install a version of our website using your company's color scheme. Contact us to draw up specifications and obtain a quote.
---
Do you offer special rates for schools?
We are attentive to the needs of students and schools. Contact us for a quote and to request preferential rates.
---
Can you give an in-person presentation at our company?
Of course! We work all year round with companies who wish to organize DISC training sessions for their employees. To ensure that we meet your expectations, we recommend that you write to us by clicking on the "contact" button on the page of the training session you're interested in.
Together, we can discuss our terms and conditions, the target audience, as well as the challenges and the constraints you are facing, so that we can offer you a customized training program tailored to your needs.
---
Can you give an in-person presentation at our school?
Yes, we offer training courses tailored to schools, in terms of duration and target audience.
---
Who provides the training?
Elodie Bancelin, professional coach and training consultant in management and personal development, who is specialized in DISC communication, assertiveness and managing emotions.
She helps companies bring their training programs to fruition and in her role as a "Merci Mon Coach" training organization, she also consults with experts in fields requiring know-how other than her own, in order to provide her clients with a complete, tailor-made service.
---
Can your training programs be adapted?
Yes, of course! All programs are customized and tailor-made. You can make a request online, and we'll contact you by e-mail or telephone, to refine your needs and suggest a training program that meets your needs while taking into account your core business.
---
Do your training programs include Force4DISC tests?
The training programs requested on our website are generally linked to the DISC model, so testing is an integral part of the service.
---
EMCC, ICPF, Datadock, Qualiopi...
Certification and Datadock registration are required to apply for and obtain funding for DISC training. Our training organization is therefore ICPF and Qualiopi certified, and fully registered on Datadock. Our trainer, a professional coach, is also a member of the EMCC, a guarantee of quality and follow-up in her coaching practice.
---
Is your website GDPR compliant?
The confidentiality of your personal data is very important to us, and we are committed to complying with the General Data Protection Regulation to the best of our ability.
Please consult our data protection and cookies policy.
---
Is your website secure?
All pages on our website use the HTTPS secure protocol. Connections are protected by the SSL mechanism. We regularly check site security with organizations such as SSL Labs. Our latest security audit was rated A+.
---
Is your data secure?
Data is stored in our database in encrypted form. Even in the event of theft, it is impossible to read it without our encryption key.
---
Where is your data stored?
Our data is stored exclusively in France on OVH servers.
---
---
Can I delete my account?
You can contact us at any time to close your user account.
---
How long are test results stored?
To comply with current data protection regulations, we will only store your data for 5 years.
---
How can I change my personal details?
You can view and modify your details directly from your user account.
It is always possible to review your personal information and decide to delete or modify certain data.
---